(BRIEF VIDEO)                  RETURN TO HOME PAGE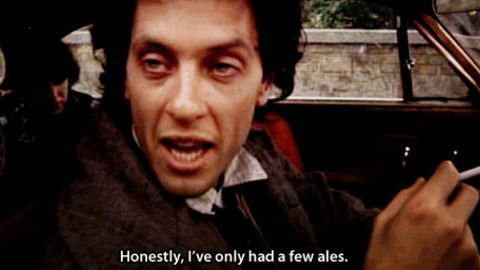 The link below is an early scene from the 1987 independent comedy-drama Withnail & I. It was written and directed by Bruce Robinson (who'd earlier written the script for The Killing Fields). Withnail & I is the story of two chronically drunk, chronically unemployed British actors in 1969. The film has spawned, among other things, a drinking game based on the characters' prodigious appetite for alcohol.
Withnail (played by Richard E. Grant in his first film role) was inspired by a real life character, Vivian MacKerrell, a minor thespian with emphatic appetites. As McKerrell's digestive system ceased to function he took to injecting alcohol directly into his stomach – and elastic ethics. Such was the character of Withnail likely to wind up.
Just before this scene, the "I" character (so called because we never learn his name) suggests calling What's-his-name (Withnail's uncle) to ask about using his country house for a brief getaway from London. As he goes to the men's room, the perfume he'd accidentally spilled on his shoes provokes a reaction.
This interlude soon results in Withnail and the "I" character (played by Paul McGann) experiencing a chaotic weekend in the rural cottage owned by Withnail's lecherous gay Uncle Monty.