(BRIEF VIDEO)          RETURN TO HOME PAGE
In "Call What's-his-name and ask him about his house" we saw an early scene from the 1987 cult comedy-drama Withnail and I, written and directed by Bruce Robinson. It starred Richard E. Grant (in his first film role) as "Withnail" and Paul McGann (as "I").
The film explores the roller-coaster relationship between two chronically unemployed actors in London in 1969. They spend their time getting drunk, getting high and getting into trouble.
A. O. Scott (The New York Times) described Withnail as an egotistical blend of Lord Byron with Mick Jagger whose greatest talent appears to be squandering his talent. The "I" character (so called because we never learn his name) is frequently capable of responsibility and diligence, in marked contrast to his friend.
Despite the movie's frequent hilarity, there are bleaker moments of near-despair plus a pervasive sense that this friendship must be finite. Something has to give.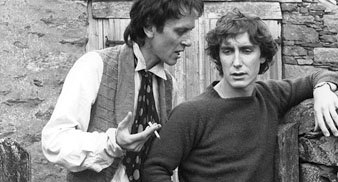 In this extract, the movie's conclusion, we witness the pair's final parting of the ways. A miracle has occurred. When they return from a disastrous weekend in the country cottage of Withnail's lecherous gay Uncle Monty, "I" suddenly finds himself employed. He's won a plum role in a play and must now straighten up and fly right. And he must leave promptly for rehearsals in Birmingham. We see the pair walking to the train station, drinking a bottle of vintage wine stolen from Uncle Monty.
As Withnail returns to the filthy flat he'd previously shared with "I", we're left to ponder his future. Bruce Robinson later admitted that his script originally had Withnail committing suicide. But then Robinson had second thoughts. Better, he thought, to leave that young man's fate in the lap of the gods.